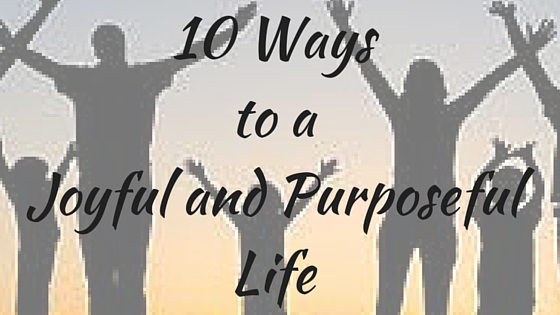 As human beings, we have a very deep desire to be happy. We involve ourselves with many things or people or activities hoping, consciously or unconsciously, to live a joyful and purposeful.
Each day, as I reflect on life and how I lived for half a century, I realise that we can actually live a happy life. I tend to believe that happiness is relative, so it is important to understand that we can be in a certain level or spectrum of happiness, depending on our stage in life.
I have also realised that it does not matter where you live in this world. Happiness comes from within. Happiness comes from how we view the world around us.
Here are my top ten tips on how to live a happy life with purpose:
1. Start Your Day with Meditation and Prayer
There are so many different types of meditation and forms of prayer. However you may call it, meditation or reflection or experiencing silence, having time to look at your life in relation to your beliefs and reality, can greatly set the mood of the rest of your day.
I do scripture meditation in the morning. Sometimes, I just sit looking at the trees behind our home. Most of the time, I reflect by listening to scripture readings while preparing lunch boxes for the family or having breakfast.Sometimes, one of my sons quietly eats his breakfast while listening to the readings.
As put yourself in the proper mind frame, of where you stand in this wonderful world and in your relationship with God, the rest of the day will give you a sense of joy in the knowledge that you have a purpose in this world.
Be at peace with yourself and the world. Spend time with nature and enjoy God's creation. Show your gratitude.
2. Keep in Regular Contact with True Friends
Many of us would have developed true friendships during our primary, secondary or university education. Others develop deep friendships at work, in church, in sports, in the clubs or voluntary organisations.
Yet, sometimes, the tide of life separates us from those friendships and they go nowhere, somehow getting wasted into oblivion.
By constantly getting in touch with old friends, you get to experience again and again the joy of true friendships and real acceptance.
Real friendships give us real happiness. But only if we continue to reach out to real friends. In this digital world we live in, there are so many ways we can contact long lost friends.
3. Always Communicate with family and loved ones
Families are seen to always be a source of love and joy. However, many of us prefer not to communicate regularly with family members. They could be our brothers or sisters. Sometimes, adult children prefer not to contact their parents to avoid the hassle of caring for them.
However, communicating and really relating with family members can bring us a whole lot of joy, even though we are unable to provide them with monetary or physical gifts.
I still believe that spiritual connection with family is more important that financial support, although the later will be truly appreciated by them.
If they live close, relax, play, watch sport or just simply spend time with family.
4. Follow the Golden Rule
Most, if not all, religions believe in the golden rule. If you follow this rule, you will, most of the time, experience the real of joy of truly relating with another human being.  Religion should not be an obstacle in following the golden rule.
5. Know the Purpose of Money in Your life
Many of us somehow believe that once we have millions of dollars in our bank, we will be happy. Yet, we know many people who have multi-million dollars in the bank but are not happy.
But those who know the purpose of money in their lives, can begin to experience joy. Those who have millions and give to those who are in need are able to experience profound joy by sharing what they have.
Those who do not even have bank accounts, who use money as soon as they get it to feed their families, also experience joy as they know that the purpose of money is to buy food for their loved ones.
No matter how much you have, think of the glass as half full. We will be happy if we let money serve its purpose in our lives.
6. Volunteer and be part of a Community, Group or church that helps people or supports a noble cause
Australia is one country where thousands of people believe in the value of volunteering. People who are retired or not working, like to volunteer in the community. Whether it is for a World event like a World Cup, an Olympics or World Youth Day, people are happy to volunteer.
Many people also volunteer in their local communities. As such, studies have shown that volunteering enables people to have a happier and longer life.
By volunteering, you will find your purpose in life.
7. Have a dream
Life is sweetly lived when the dream is achieved. But first, you need to have a dream. No matter how big or small, dreams make us improve ourselves, motivate us to learn more and get out of our comfort zone.
8. Believe in yourself and be grateful
So many people who do not believe in themselves are sad and lonely. We are all made in the image of God. We are all children of God. We all have divine goodness in us. We have strengths and talents. We all have inner beauty and human kindness within us.
If we only believe in ourselves, we will experience happiness. Joy can only come from us; from inside of us. Because that is where happiness and joy lives. Not in the material things around us.
Always be grateful for God's gifts to us.
9. Eat Healthy Food
Food is the physical fuel for our lives. We have to be thoughtful in the type and amount of food we eat. We have to try to eat food from different food groups and we need to eat just enough of what our body needs. Our activities also need to be considered when we are choosing the food we eat.
10. Exercise Daily
I have stopped going to the gym. But, every morning, I chose to be dropped 4 blocks away from the train station so I could go for a 10 – 15 minute brisk walk. On my way home, most days, I walk briskly for about 10 -15 minutes from the train station to my son's after school care.
I also believe that doing house chores such as, preparing food, cooking, washing and wiping the dishes, hanging clothes and folding clothes, use up my energy and exercise different parts of the body.
We all have our own experiences and personal awareness of what makes us joyful and of what makes us live fully our purpose in this world. What is most important is for us to reflect on and understand our unique individual purpose on earth as a creation of God.