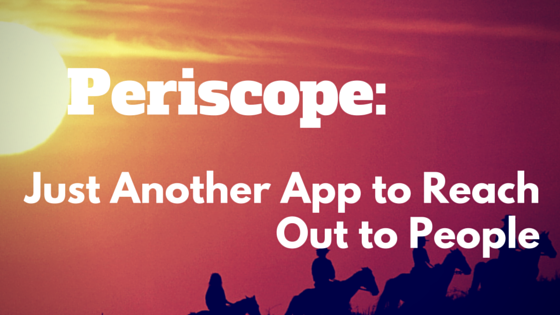 What is Periscope?
Periscope is a live-streaming video app that was acquired by Twitter in January for a reported $100 million. It was founded a little over a year ago and allows you to watch and broadcast live video from all over the world.
Like most apps, Periscope is so easy to download. The live feeds can be shot from iPhones and iPads and watched through smartphones, desktops or laptops either through the app or on Twitter's site. You can watch replays of recent broadcasts or browse live streams by pressing the TV icon on the bottom left of the screen.
How do you use it?
You need a Twitter Account to be able to shoot a video via the app. Once you've downloaded Periscope from the App Store, you're given the option to subscribe to the Periscope broadcasts of those you follow on Twitter. You'll be notified every time one of them starts streaming, and once you're watching a broadcast you can type out a message to the owner and fellow watchers, or send a 'heart' to indicate your approval.
I downloaded it last night and ended up watching some of my favourite online entrepreneurs. It was so easy to check out the different continents and choose the people who are already on Twitter or people you are already following on Twitter.
One of the concerns I have that I shared with a colleague today was that if you choose someone whom you do not know, just out of curiosity, you may have a shocking experience for the day.
Why do you use it?
As someone involved in sharing faith-related messages, I am excited as to the possibilities that Periscope can support us in our work. But of course, just like any digital or social media, you have to be clear as to your goal in using Periscope. It can eat up your time just watching what people in other parts of the world are doing.
Simply, it is a choice between watching what others are doing or letting others watch what you are doing. If you are sharing a message that you hope to change people's lives and could change the world, this is a very powerful medium if used properly.
At the moment, it is only one-way streaming. People can send messages or comments while you are streaming.
Reaching Out
Periscope is similar to Apple's Facetime, Skype, Viber, Google plus and other live video calling or streaming softwares but currently is only limited to one person streaming. Go, try it out and see who you can inspire and  influence, even in a very short time.
It is amazing how the digital world has moved during the last twelve months. There are so many types of digital media to reach out to people in other parts of the world. However, we should always remember to reach out and be available to people around us, especially those who need us.
All the best!
Ros