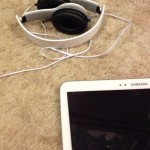 Everywhere we go with our young boys, we inevitably hear comments about the use of iPods, iPhones, iPads or Android tablets by well meaning friends and relatives.
At parties, we hear the harmful effects of digital games on young minds and what they could possibly acquire by playing these games.
Our church friends tell us they don't allow their homeschooled son to use an iPhone or iPad. Another parent tells us she gives her son an iPone so she can contact him easily to know his whereabouts.
When we spoke to the teacher of our son in high school, she was happy to announce that the school will be implementing a BYOD (Bring Your Own Device) policy which will be exciting for students. She also mentioned that our son was pretty fast and skilled in the use of technology. In fact, it was one of the subjects he had a good mark in. The other was Science.
Meanwhile, the teacher of our year 3 son was happy to inform us of his skills in creating Power Point and Excel presentations.
But, aren't all kids and young people good with technology? They are the digital natives. They want to use and own gadgets. Should we stop them? Or, should we
control them?
As parents of digital natives, we often find ourselves being given confusing messages by people around us.
Even the government was quite happy a few years ago to rain iPads on our high schools.
But, with not enough advice from experts and authorities, we try to inch our way through the digital maze.
We try to limit the children's use of digital gadgets and screen time. We do not turn on the TV during the week. However, sometimes when I am downstairs, the boys sneak into their favourite TV Cartoon and Kids shows in the Lounge. Or, when I am in the bedroom, they will sneak into the rumpus or library and music area downstairs.
We let them use their digital tablets after completing their homework for the day for a limited period. But when the time is up, it is so difficult to remove the gadgets from them.
During the school holidays, I made sure that we went to the parks everyday to kick soccer balls, play informal tennis and badminton, walk around the oval, run a hundred meters and ride scooters, skate board, roller skates and go-go carts.
All these are attempts to avoid or lessen the use of gadgets and not just to keep them busy, active and healthy.
I was horrified one day to see the little one play Grand Theft Auto with ease! So, after hearing the bad reviews from our journalist friend, we immediately erased the game from all gadgets at home!
It is not easy to monitor our children every minute of their waking hours at home. Let alone at school, where some classmates have the liberty to show off their gadgets and the computer room is always easy to access.
The challenge is always: to use or not to use. Well, they are not called digital natives for nothing. Digital gadgets, computer games, social media are definitely here to stay. They have just made parenting a notch more difficult than it used to be. But Sociologists and experts always say that every generation has challenges of its own.
As a parent, I try to be involved with the digital media as much as I can. I use it daily to reach out to long lost relatives and friends, to be informed of changes in technology, to build different sources of income, to learn a new skill, to apply for work or to get a new qualification.
I even taught seniors how to use new media gadgets and social media.
So, as a parent of digital natives, I have to be learning all the time. I need to know what they know or need to know so I can guide them.
There is no denying that as a parent, I want them to be very good in the use and application of digital technology. Because that is their world. Their future work and enjoyment will be hugely affected by it. Their health and well being, too.
I need to teach them not just about content but also about attitude. They need to know not just the hows of technology and media but the whys as well.
So, I hope that each day, parents of digital natives learn to maneuver and succeed in overcoming challenges in our children's use of these tools of modern society: digital media and technology.
All the best!
Ros