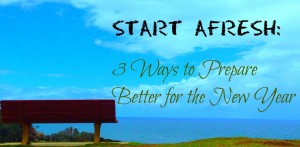 On New Year's Eve or Day, we greet each other a happy new year. We hope for the best. But ultimately, it is up to us to make our year happy and possibly the best year ever.
Here are a few ways to help us prepare better for the new year 2014:
1.  Look at Priorities with your Spouse (Life Stakeholder)
Look at the previous year and check out which matters were sources of friction, misunderstanding and hurt. They usually were the ones where you and your spouse or any of   your major life stakeholders (partners, parents, etc) have different expectations in your levels of priority.
It will be very useful to clarify and agree with them how you will spend the year and what your main priorities for the year would be. This will hopefully make your future decisions easier to make and avoid unncessary hurt and misunderstanding.
2.  Set Goals
Last year, I decided not to have any written goals and to just respond to opportunities and needs as best as I could. I was able to do a few things I was happy about. However, it did not offer a deep sense of achievement as I really did not set out to go for it. Not that achievement defines my life but there was no specific direction to follow so it was like a reactive kind of life, not driven by purpose, result nor direction.
I am back to setting my goals for this year. Not creating New Year's Resolutions but building a new beginning with better preparations. These will be goals on the different areas of my life based on our agreed priorities.
We see around us the irony of it all: New Year's Eve Parties and New Year's Day activities, which are only a night or a day event but people prepare well over so many days and months ahead. However, for all-year-round activities,  most people prepare only for one day, on New Year's Day, basically by having resolutions.
3.  Have the Courage to Change (New Start)
After goal setting, we need the courage to implement changes in our lives.
Inner Change
This includes revising mental and attitudinal comfort zones. We need to learn new knowledge, skills and attitude. We need to motivate ourselves in any way that will assist us in whatever phase in life we are in.  We need to reflect, meditate and look inside us to see what we need to change to become better in our different roles in life. And more importantly, we need to remind oursleves of our purpose in life. Only then can we gain the strength and courage necessary to start afresh in areas where we need to improve or reach our desired outcome.
Outer Change
This includes organizing your physical environment – your office files, desks and home settings. Everything should lead to easy access to sources of information, facilities, inspirations and motivations.
We started during the last few days of 2013 and are just completing all the cleaning and rearranging of our home environment. I am creating clear boundaries for my home office space so I am now looking forward with excitement into what can be accomplished when it would be much easier for us to find resources we need to effectively implement tasks and projects for our work, business and ministry.
Here's wishing you fresh beginnings and easy access to your sources of inspiration for a happy, fruitful and goal-driven new year!
Ros